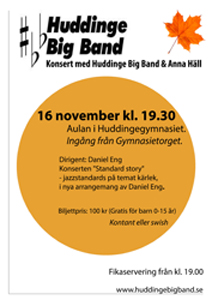 On November 16th, Huddinge Big Band will hold the concert "Standard Story", which means they will perform arrangements I have made from jazz standards and put toghether to tell a love story. Many of these arrangements were originally made for my college graduation concert, to which I chose my favourite jazz standards and arranged them in a way that together with a narrating presentation, they would tell a love story – from beginning to end, and a bit thereafter. The original concert was held at the Royal Academy of Music in Stockholm (at the "Lilla Salen" hall) in January 2001 and consisted of eight arrangements, but in the years following I completed the concert repertoire with another three, to finalize it to the planned eleven songs.
Now; Huddinge Big Band will perform ten of these arrangements in the story, with the eminent vocalist Anna Häll aiding in the storytelling, and with me as rehearser, conductor and presenting narrator.
Place: The Aula of Huddinge Gymnasium (entrance from the school square)
Day: Wednesday 16/11
Time: 19:30
Admission: 100:- Free admission for kids under the age of 15!
Coffee, tea and home baked pastry will be for sale from 19:00.

Welcome!
P.S

The arrangements that constitute the concert are all for sale here, and in concert order they are:
Days of Wine and Roses
Like Someone In Love
My Shining Hour
I Thought About You
If I Were a Bell
Do Nothing 'til You Hear From Me
This Masquerade
Here's That Rainy Day
Don't Get Around Much Anymore
It Could Happen To You

D.S