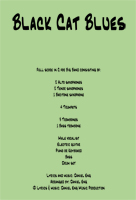 It's unfortunate and sad, but sometimes creative inspiration comes from bad and horrible events and phenomenons, as is the case with this latest addition to the web shop, the composition "Black Cat Blues", which from today is available (at a discount from the start).
This new piece is a thirteen bar blues with lyrics, written by me, portraying the gloominess and fear coming from witnessing abuse, exploitation and soiling of innocence, youth, beauty, peacefulness and openness. Naming some of the means used to make these encroachments possible, and hints at what befalls those who pursue these things.
The actual composition itself was ultimately prompted by the cowardly Russian assault on Ukraine on February 24:th, but bits and pieces of the lyrics had continuously been coming together over the years seeing the reprehensible and detestable lives and customs of people like Jeffrey Epstein, Prince Andrew and Ghislaine Maxwell (among far too many others), who used power, monetary wealth, social standing and networks of similarly inclined low-lifes to exploit both people and resources to promote their perverted and sleazy life styles. People whom use their resourceful personas only to amass wealth enough to enable them to take out their perversions and whims on all and everything.
To express my contempt and derision of people like that, I put together the lyrics and composed this blues in an attempt to show that evil is prevalent among seemingly highly socialised but powerful people, and that too many let the strife for wealth and power dull or outright kill their intellectual, mental and empathical abilities. Only to leave them as preying ghouls, whom think it's in their rights to invade, abuse the young (mostly women and girls), kill displeasing persons, overly consume environmental resources or just take their whims out on others, no matter what.
The Summer Sale is on until August 31:st. Take the opportunity to buy exciting Big Band charts at a discount. 30% off on all compositions, and 25% off on all arrangements.
I wish all of you visiting here, a really nice and relaxing Summer!