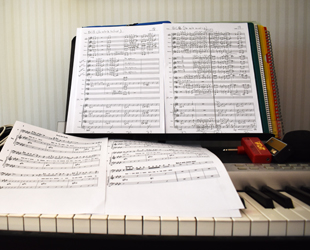 Next week it's due time for me to go on a much longed-for vacation. Doing some easy practising, ponder about new composing projects, read all the books on my reading-rooster and just relaxing, is what I need and want right now.
The Summer Sale is on until the 31:st of August! Take the opportunity to buy exciting and stimulating Big Band charts at reduced prices, to get your band a fresh start of the coming Autumn season.
My latest composition (of which the draft score is shown here), an ominous blues for a male vocalist inspired by both traditional Japanese and Western religious superstitions titled "Black Cat Blues", will be published in the web shop at a reduced price during the sale, as soon as the score and parts are edited.
I wish all of you visiting here a really nice and relaxing summer!