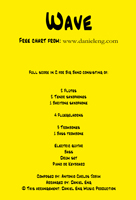 Finally, the "Charts for free" section is complete with the fourth and last chart; an arrangement of A-C Jobim's well known bossa "Wave". Now all four categories of the shop are represented by one free chart each.
Welcome to check this new chart out. It has not been band tested and proof-read yet, since – as everybody knows by now – all rehearsals are cancelled due to infection-preventing restrictions.
I wish all of you visiting here all the best!