The summer of 2021 is, with this August, slowly coming to a closure; flowers wither, leaves on the trees start changing colours, birds migrate and animals and insects alike prepare for autumn and winter. We humans go back to work from vacations, and schools start – anew for some, premiering for others. For me, the atmosphere of August is an eager, busy and anticipating time, where expectations remain untried and hopes have the energy to be pursued.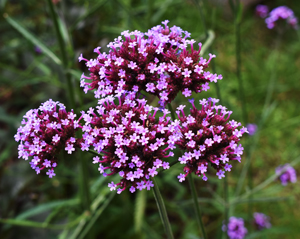 August can also be a time of melancholy, when a sense of time lost and of a scheduled, regulated life limiting one's ambitions, slowly seeps into consciousness. On the northern hemisphere we are undoubtedly heading for darker, colder and rainier times.
But there still is much summer-ish sunlight, many warm days, many green lawns and flowering plants left, and the water in the lakes and the sea can still for long be batheable in temperature. Like with the Vervain from our garden in the picture, the summer is still on, and with that the Summer Sale still has a few more weeks to remain open.
Until August 31:st there is the opportunity to buy great sounding, stimulating and unique Big Band charts at the discount of 30% on all compositions, and 25% on all arrangements. All to give your band a stimulating injection to the repertoire for the autumn rehearsals. If you want to know anything about a chart, or would like to see some passages not shown with the product, feel welcome to make contact at: contact("at")danieleng("dot")com
I wish all you visiting here, a really nice summer ending and to stay safe from the recent upsurge in the pandemic.