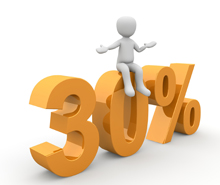 The 2021 Summer Sale is under way since the first of June. Since the circumstances, with the pandemic, are special, I've decided to stick with the larger discount that I introduced in 2020; the abatement is 30% on all compositions, and 25% on all arrangements.
Take the opportunity to buy exciting, challenging and fresh charts for your Big Band at lowered prices, and let's all hope that come the autumn Big Band rehearsals can start again without any sneaky virus variant waiting for spreading – knock on wood.
Take care and stay safe everybody!