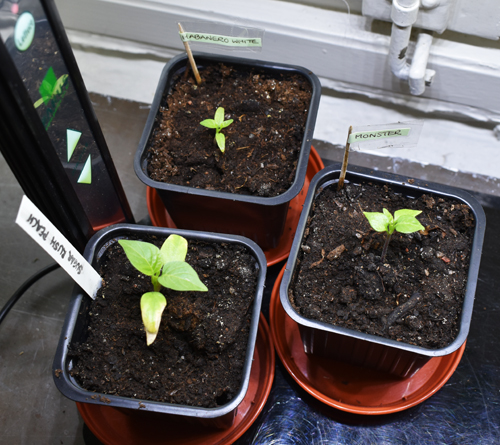 Late March, early April, is to me the month of growth; the time when plants of all kind start to show up from beneath ground, twigs and branches show hints of the leaves to come, and where the grass on lawns and fields subtly starts showing a background of green to the yellow remnants of last year. This is also the time when my chili plants start to show significant growth and become real plants, from the tiny, minuscule sprouts they were when they first showed up from the soil.
This year, I've settled for only sowing three chili plants; partly because I have very much dried chili in store from previous years, partly because I want to have room on the balcony for other things than just a large bunch of chili plants. The sorts of chili I have this year are two slightly hotter variants, "Habanero White" and "Monster Naga", and one mild and larger type, "Sugar Rush Peach".
Other than growing chili, there are also some new charts growing on my desk. An arrangement of Gershwin's "A Foggy Day", for a male vocalist, and a vocal composition in Japanese modes and scales. Both will be published here when fully grown and matured.
I wish you all visiting here to stay safe and to finding strength to endure the time that still is left before the pandemic is fended off through the vaccination programmes that are pursued all over the world to increasing effect.